"Shooting: How Close is Too Close?" 
Avi Nardia, Benjamin Krajmalnik ("Krav-jmalnik") & Tim Boehlert
When students ask me "what is the most dangerous gun?" I always say "your fork as most of us will die from over-eating and not from gunshots." For a few years students, instructors and even the folks at Budo Magazine have asked me to put together a DVD on firearms instruction, but Lt.Colonel(Res) Chaim Peer, KAPAP founder always refused to give civilians too much info as he wanted KAPAP to be only for our people. Experience had shown that others would copy KAPAP and call it different names. He always said that 'Integrity' was to do the right thing. Not many see it, but in today's Martial Arts marketplace, there are many, many opportunists, 24 year-old kids that leave the Israeli Army, and then call themselves Grand-Master, or 'Real Deal' and then try to call everyone else a fraud and slander them using their own DVD and background information of study to claim that THEY are the only 'Real Deal!" So, after a very long time I managed to ask Chaim Peer for his permission to create a new DVD, and thus we have created a new Kapap Firearms DVD.
Personally I don't like firearms, even though I have been around them since I was born as my father served in the Israeli Army. To see firearms in our home was natural, and as a kid I used to play on his Jeep or with some of his military gear, as it was always around our home as part of my father's visits home from the Army. Sometime's I would even drive the Army ambulance, as my father later became an Army Medic/EMT.
At around 6 years old, my father spoke with me and explained firearms to me, citing specifically the ones that had been in our home, an Uzi and an AK-47 . He said "I know you know where it is and if you touch it with out my permission, I'll smack you!" and then he smacked me – as he caught me with a smile on my face, smiling about the ideas to come. He then said "this is a very bad thing, a gun, BUT I know you may want play, so if you want to, all you need to do is ask me but please don't do it without my permission and without inspecting it FIRST." He then taught teach me the second rule,"Safety First,Safety Last."

These two rules I will hold with me forever and they are more important for me today as a firearms instructor as I see so many people fooling around with guns. During this past year a firearms instructor, a "Rambo, Real Deal deadly guy" shot one of his own student's four times! I thank God that the student survived. As a joke, we say in Israel, "…the instructor is also a bad shot" as a macabre joke. But EGO caused this accident, nothing else.
This event led myself and Ben Krajmalnik, who also served in the Israeli Army/IDF to come out with a new basic DVD to explain a little about firearms and safety and to share some basic techniques to train with firearms. Mostly I don't like to teach firearms unless I know the students personally, or if she/he is in Law Enforcement or coming from a friendly Military service. Firearms are made only for one purpose – to kill. This is why I'm not much in favor for it and in any firearms class I always state to my students "if you carry a firearm, you need be ready to kill! It's not for fun, it's not for ego and to show who has the bigger gun as most people play with guns to extend their ego." In my experience I have had many students from the best firearms instructors, but when I left the the Israel's top counter-terrorism unit, I understood that mostly we didn't really know how to shoot properly. The art of shooting is more than shooting people and too many ex-military personnel say things like "I'm not a paper shooter" – that's just egotistical.
I have had lots of firearms instructors from many fields such as hunting, sport shooting and even Army counter-terrorism experts. Shooting can be done for Combat or for Sport or recreational, and some do it only for fun. The sport is very demanding and hard but combat requires less skills, but it's goal of using the gun is ONLY to kill.
I have studied the gun from all three methods of training and from so many instructors and mindsets, and I then understood many mistakes in the Israeli systems that I studied first, like "point shooting." Point shooting, which is GREAT for self-defense at close distances and is helpful to break the 21-foot rule – The Tueller Drill – is a self-defense training exercise to prepare against a short-range knife attack. Sergeant Dennis Tueller, of the Utah Police Department wondered how quickly an attacker with a knife could cover 21 feet (6.4m), and so he timed volunteers as they raced to stab their target. He determined that it could be done in 1.5 seconds. These results were first published as an article in SWAT magazine in 1983 and in a police training video by the same title, "How Close is Too Close?" Point shooting is great for this scenario, BUT by not using gun-sights you create different problems and one BIG mistake with Israeli firearms training is to walk with an unloaded gun (for safety) but if you find yourself in this scenario you can't use one hand to try and load under stress as you may need that hand to block a knife attack and use your other hand to draw your weapon with. It's a very common mistake go with an unloaded gun, so if you carry a gun you must be ready to use it in anytime you carry it.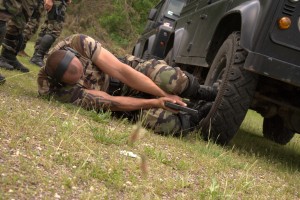 Introducing: Instinctive Point Shooting Combat (IPSC)
Safety with firearms and handling firearms in the use of self defense and protection.
Point Shooting is the skill of quickly discharging a firearm (usually a handgun) with minimal or no use of the sights on the weapon.  It is a method of shooting that relies on instinctive reactions and kinematics to engage close-range targets. This shooting method is used in fast and dynamic situations when there is no time to use a gunsight or in low light conditions. Point shooting does not rely on sights and instead places the gun below the line of sight, but still in the field of vision. Since the sights are not employed, the shooter focuses on the target. The point shooting method is often referred to as threat focused shooting.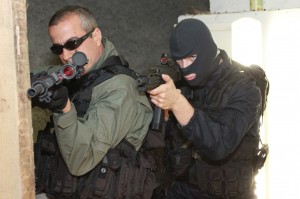 The purpose of Instinctive Point Shooting Combat Training (IPSC) is not to develop marksmanship or to develop competition skills. It is not for shooting holes in paper targets and it is not a skill for hunting small game. The purpose IPSC training is to enable you to quickly and effectively stop someone from making you a victim. IPSC trains people to survive life-threatening situations and trains you to react in a fraction of a second in order to defend your life and protect innocent people. It is a self-defense discipline.
You cannot shoot another person on mere suspicion.  The innocent citizen or police officer must wait until a predator or terrorist makes an overt act, putting the citizen in a situation where they must react to their actions. In a gunfight the aggressor has the advantage and the defender is a second or two behind them. Against this terrible disadvantage, the citizen must be able to overcome lost time with a combination of speed and accuracy.
IPSC shooting trains you to survive a gunfight, even when the aggressor has the advantage. We teach speed and accuracy in an armed encounter because you need to be the survivor.
There are no rules in a gunfight, knife fight or street fight; there are only facts, which when understood, can give you a winning edge:
Fact: Almost all gunfights, knife fights and assaults occur at distances of under three meters.
Fact: Most gunfights and assaults are over in two to three seconds.
Fact: A high percentage of gunfights and assaults occur in dim-light or where sights are hardly visible.
Fact: In a spontaneous life-threatening situation, the body undergoes changes that degrade our fine motor skills because our vision is focused exclusively on the threat.
Conclusion:
To win in a gunfight or to survive a life threatening assault requires great speed and accuracy; drawing and firing the gun at close-range without the use of sights. This is Instinctive Point Shooting Combat.
Violence – recreational or otherwise – is a part of society, and in the new era of terrorism it knows no boundaries. Whether we like it or not, violence is going to be a feature of our lives for a long time to come.  Rather than ignore it or hide from it, we must learn to handle it.  The objective way to live with violence is to avoid it, deflect it or reduce its impact by being prepared for it.  We do not get to choose the bad things that happen to us.
A person's natural instincts – which include spontaneous reaction to sudden attack – are formidable powers that usually ensure survival if they are harnessed correctly. In my experience there are two factors that interfere with our ability to defend ourselves: inappropriate equipment and inadequate training.  These things have killed (and continue to kill) innocent people.
After many years of involvement in personal security I have reached the conclusion that in order to harness the natural survival instincts of the human body, equipment and training must be kept as simple as possible. Attacks are sudden and without warning and a huge advantage during an attack is a concealed handgun capable of immediate action.  Requiring no time-wasting, no two-handed loading operation or a frantic search for a cunningly hidden safety catch, it is available in a split second. It is a handgun that can be pulled, pointed and fired repeatedly with ease, as well as capable of being carried safely.
The training and the equipment recommended by IPSC is calculated to keep people safe with minimal impact on their daily lives.
Authors:
Maj. Avi Nardia www.avinardia.com
Benjamin Krajmalnik www.defensivetraining.net
Tim Boehlert www.defendublog.com
© Copyright, 2013 Maj. Avi Nardia, Benjamin Krajmalnik & Tim Boehlert
http://issuu.com/budoweb/docs/revista_artes_marciales_cinturon_newebmaster@budointernational.com