KAPAP: Krav Panim el Panim, The Art of "Gaku Jutsu–Do"
Avi Nardia & Tim Boehlert (11/13)
KAPAP (Krav Panim el Panim – face-to-face combat) is a Martial Art form from Israel, mostly considered a modern and reality based Martial Art, but I prefer the name 'Practical Martial Art – PMA.' Those two meanings of KAPAP as a modern and reality based Martial Art has created a certain amount of confusion in the market lately, so let's clarify it.
The early days of KAPAP takes us back to the 'old days' in Israel, 1930 through 1940, when it was a generic name for face-to-face [Hand-to-Hand] combat. The name was used even before Israel was declared and established as an independent state in 1948. Until the late 1960's it was used as a generic name by different Israel security forces. The system was based on judo, Jiu Jitsu which takes us back to the Japanese understanding of Martial Art with teachers such as Yehuda Markus, Gerson Kopler, Michel Horowitz and many other trainers and teachers from that early period. It is interesting to note that in Israel most of the older people would be more familiar with the term Kapap while the young generations would be more familiar with the name Krav Maga.
Krav Maga was one of the many systems that were born out of the old days. On my return to Israel from the Far East, where I was studying Asian Martial Arts for eight years, I was asked by the Army Lieutenant Colonel Harush Avi to create a form of Krav Maga for young recruiters as a part of preparation for military service. At the same time Israel's top counter terrorism unit, YAMAM, had recruited me as a member of the unit and the trainer for the CQB and hand-to-hand program with the rank of Staff Sargent Major (highest NCO). My task was to re-write and re-structure the old program and to incorporate new training methods. In this mission I teamed up with Lieutenant Colonel Chaim Peer, who was well-experienced in military and other security forces. The system that we developed together was later recognized as reality-based mostly for the idea that "It is better to be a student of reality, than to be a master of illusion." Most of the moves and training were connected and tested in reality-based situations. At the same time the true idea and meaning of Kapap were missing. That was not the Kapap that we had in mind.
Kapap is a system that consists of three aspects: traditional, sport and combat. A whole system cannot not operate without those three dimensions. It's like a family tree: the tree with no roots falls down easily and it's branches fall off, dry and die quickly.
For the last 15 years Kapap has been in the civilian marketplace and we've tried monitoring the quality of it by denying 75% of students who apply for it. Even by having that filter we feel many times that we are getting the wrong people. In the old days students would have asked for admittance to the school. What we face today is overblown advertisements, and attempts by students to get into the schools and teachers who are ready to sell certificates by e-mail without ever seeing the students just in order to build up a system! In Kapap we do it old-school style: our students need to ask for admittance into the organization. They must regard us as teachers and we will teach them as it was done in the old days.
Lately I have started considering KAPAP more like Zen teaching. It could be due to the time that I spent practicing Kendo in Japan, which is very noble Zen swordsmanship.
In our modern era the sword has been supplanted by the introduction of modern firearms but the values of morals and ethics which should be passed to the students through the Martial Arts is the same. The gun is modern archery. During a knife fight it is important to keep the right distance and to reach for the vital points of the opponent in order to win and at the same time keep him out of your safe zone. In order to solve the distance problem people have created spears and bows and arrows. The gun could be seen as a small spear which is a bullet filled with black powder and the ignition or explosion of it as the string's power. And again if Zen was the way of archery, there is no reason why the gun should not also be considered the same. Once I started teaching surveillance and awareness I noticed that most people were talking about gun disarming, but none of them had ever used a gun in real life. It was a red light to me that so called "masters" could not even take the magazine out of the gun or clear a malfunction or jam. It was very scary to see that those "masters" actually taught people.
Only by merging the following three aspects will you get a true understanding and knowledge of the gun. Gun usage, gun retention and gun disarming are those three significant aspects that bring you to that level. By missing only one dimension of it you will fail. All those ideas led me more into the research of the Asian way of fighting. In the old days a true master was not recognized as such by himself but by the others. Today people are self-proclaimed 'Grand-Masters.' Therefore I want to emphasize the importance of 'Gaku' , 'Jutsu' and 'Do' – the traditional way of teaching and learning Martial Arts.
'Gaku' means academic learning which occupies our minds. 'Jutsu' is the practice and study of the actual techniques in order to defeat an opponent. And the 'Do' is 'The Way,' the spirit we all try to attain in our lives in order to gain the true knowledge of ourselves and the world. That's the main idea of Kapap: "Always student, sometimes teacher." That's why the Martial Arts teacher was also known as "Shinan–Jaku." It means 'pointing to the South', like a compass, because in the Japanese tradition, pointing to the North was considered bad luck. The teacher was considered to be a compass pointing to the right direction for his students. Those three aspects of learning Martial Arts occupy mind, body and spirit.
Kapap's compass is set to point to integrity first and most students and Grand-Masters are missing this quality today. Someone told me that Israeli Martial Arts has no integrity so I explained it to him this way: While most Grand Masters today are self-made, did not have any real teachers and they follow ANY way, that's a compass that has no direction other than income.
You may see that some people in Israeli Martial Arts are students that have been kicked out from other schools and organizations for reasons that I see each day. I kick out some bad apples from the Kapap basket, and the next day they are Grand-Masters of Kapap, or they have or made their own new "Real Kapap", based on lies and more. Then they try to sell evil lies about their teacher and try to take him down.
During my early training, when the teacher kicked you out of his dojo, that was the biggest shame you could ever face. Today you just cross the street or open Google and find a new organization to send you your Grand-Master certificate!
So to keep integrity in the Martial Art's today is a real struggle. Most Grand-Masters today have only done maybe one week in Israel and then they certify themselves! How many people really lived in Israel and studied for years in the Israeli Martial Arts? When I was in Japan my teacher asked one of my students "so, how many years have you studied in Israel?" My old teacher is blind today, can hardly walk in his old age, but it seems to me that he gave me the best class as can we really call our students – students.
The compass needle always leads the way, but are our students ready follow? Or if you don't award them a colored belt or advance their rank but tell them to train harder, will they the next day become 'director' of a new organization and call you fraud? How can anyone call his teacher fraud if he himself teaches what he was taught exactly?
I have been a victim of character assassinations by students that I kicked out of my dojo and Kapap as they shamed themselves. I kicked one guy from our Level 1 training out that was from France, and the next day he went from Level 1 to a Level 5 Instructor, even though we only have four levels! I kicked one guy out of the Israeli Army, and he proceeded to load the internet with lies, he just forgot to mention that I kicked him out of the Israeli Army for being AWOL! And the stories go on and on!
So in this world it's hard to find real integrity and everyday I see more of the shamed that have been kicked out of many Israeli organizations inventing new Krav Maga organizations. The marketplace is seeking worthless paper certificates and not real study. It's about ego and bullying, not Martial Arts.
Someone asked me about a guy that had some some certificate signed for Kapap or Krav Maga, and I answered that bathrooms are loaded with papers signed by some butts — it's not the paper that makes you, it's who signed the paper, and how easily he signed it and for how much money? In Kapap under Lt. Colonel Chaim Peer, the price is expensive: tears, blood, sweat. If you can't pay in those denominations, keep being the director of some "real" system!
Jutsu is something that's the most basic and it is introduced first in the art, for physical methods are the most basic root methods of an art, but it's not the most important goal. Training is followed by Gaku, which is a study of the historical and technical. Then follows the philosophical and spiritual implications.
A beginner will have no idea about the physical movements, so he has to go through a lot of techniques first to integrate the movements into one's own body. If the goal is purely for sport, winning contests, or for pure physical health or self-defense, it can stop here and that's fine for what it is.
As the student improves his technique he has to realize that there's some kind of technical underpinning. He needs to study and take his own initiative to read books and research into why the techniques are done a certain way. To some people this would seem like a waste of time, but knowing a bit about the history of Kendo will enlighten a Kendo competitor. Theoretical and historical knowledge adds to the physical capabilities of the student. Gaku and Jutsu work hand in hand.
Eventually every advanced student will come to the point of asking himself some deeper questions about the meaning of his/her training and how this activity fits into our lives and changes us as human beings. Here we see the influence of the art on spirit. This is the 'Do', the MOST important part of the learning process. We see our lives being changed by the art in a positive direction and giving us larger perspectives. Without any concern for Do, budo training would be merely recognized as a system whose only purpose is beating up or killing someone else.
It is not necessary to divide the three as you train. Jutsu is informed by Gaku, and both are enveloped by Do. While in the beginning gaining technical mastery is most important, as one progresses, Gaku and Jutsu also begin to take center stage, although Jutsu should never be neglected. In the end, a balance between the three is struck, where feedback loops move back and forth between the three categories, increasing the knowledge of all three.
But remember, without integrity you can't find the Kapap way and at the end of the day each of us stands in front of his/here own mirror, and we can lie to all but not to ourselves! When I stand and look in my mirror, I like what I see and know that I will work harder and be a better student.
"Lose your temper and you lose a friend; lie and you lose yourself." Hopi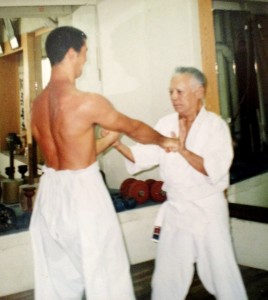 Photo Credit: Mauro Frota w/An'Ichi Miyagi Sensei, Higaonna Dojo
And this personal message:
To: Avi Nardia
From: Mauro Frota
Sensei, the photo was taken in a private class with An'Ichi Miyagi Sensei while I was living at the Higaonna Dojo, sleeping at the floor (a little like Karate Kid) 🙂
One day, An'Ichi Miyagi Sensei told me that he was coming to teach me a private class. I told that to Morio Higaonna Sensei and he told me to clean the dojo to receive his master. And so I did. We trained Sanchin and Tensho kata, along with basic kata Gekisai, and lots of talk about martial arts philosophy and moral values. He gave lots of examples from his own teacher, the founder of Goju-Ryu karate, Chojun Miyagi. After that he made me promise to write him a letter and visit Okinawa again. And I did so. At the dojo, he was always with a white belt, and during the opening ceremony, instead of being in front of me, he asked me to be beside him. I will never forget that day – it was my birthday present, as I was turning 21 in that same day.
Hope to see you again soon to keep on learning Kapap from you, especially because you treasure my background and give importance to moral values.
Avi Nardia and Tim Boehlert ©copyright 2013
Authors:
Maj. Avi Nardia www.avinardia.com
Tim Boehlert www.defendublog.com