To Study the Old, Is to Understand the New
Authors:
Hanshi Patrick McCarthy www.koryu-uchinadi.com
Maj. Avi Nardia www.avinardia.com
Tim Boehlert www.defendublog.com
© Copyright, 2013 Hanshi Patrick McCarthy, Maj. Avi Nardia & Tim Boehlert
Teaching modern Martial Arts and Reality-Based self-defense, many times we are faced with questions like: "Why do you study Brazilian Ju-jutsu?" or "Why do you study Judo?" or "Why do you study Japanese Swordsmanship?", and ultimately with "What do those disciplines have to do with modern Martial Arts and Reality-Based self-defense?"
Most Reality-Based practitioners forget who the founders of their systems are, and the roots of that system, but it's always important to remember those roots. We also see it within the Martial Arts.
Avi Nardia: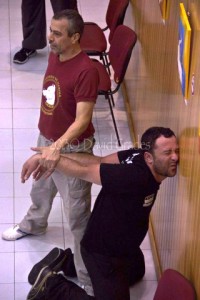 I was born and raised in Israel and joined the Army, and thus I cannot agree with some Krav Maga schools that declare: "We are not a traditional Martial Art, we are a no-nonsense Martial Art." With ego-laden talk like this, falling is a big risk — and it's too high of a risk.
Krav Maga is also based on traditional Martial Arts, and all of it's moves come from old manuals and books that were available and utilized during the World War II era, including many Martial Arts books about Karate, Judo, Hand-to-Hand Combat and Ju-jutsu. I've never seen a move that I hadn't already seen in old Martial Arts books, way before Krav Maga was born. All of Krav Maga's kicks and strikes have been taken from many different Martial Arts and have been set into one puzzle in Israel, to teach fast self-defense to it's Army personnel. Krav Maga techniques were to be based on a few simple criteria: techniques had to incorporate only a few minimal moves and techniques could not be overly complicated, as they might not always be effective. And many times techniques were developed and taught to give the soldiers confidence and basic self-defense tools, but nothing more.
When I returned to Israel in 1992, after almost eight years in the Far East studying Martial Arts, I must admit that as a Martial artist that desired to study Martial Arts, if I could have found the knowledge that I sought so close to my door, I would not have flown all the way to the Far East to study!
Lt. Colonel Avi Harus, R.I.P., asked me to setup a new more advanced program, that would achieve a few simple goals: it should be less injurious to it's students, and it should prepare cadets to join the Israeli Special Forces. This is where I began to see the good things in Israeli Martial Arts systems as well as the bad things, and I began to progress it, to develop it to the next level, to teach it, to fully experience it and to thoroughly test it. This experience eventually lead me to being recruited by a top Israeli unit after they had tested most of the current Israeli systems and instructors in Israel, including some ex-Yamam members. They found that the program that I developed was the best program suited for them and this is where KAPAP, the newest Israeli Martial Art, originated.
Together with Lt. Colonel Chaim Peer and his vast experience, we went to the Special Forces to discover what their needs were, and there we worked with one of the most inspiring Martial Artists that I know, Hanshi Patrick McCarthy, who also functioned as an advisor.
We started proposing the most advanced system to the unit. Through the years the system would
be changed and it got more and more progressive, most recently with the addition of Machado RCJ Ju-jutsu. I was honored to be one of the RCJ instructors and I was also chief instructor for Aiki Kenpo Ju-jutsu, under Hanshi Patrick McCarthy.
Thus, since the Krav Maga system is taught to kids, it is not really accurate to claim that Krav Maga is the official system for the Israeli Army. There are no kids in the Israeli Army.
We are teaching a new and modern system, with some of it's roots emanating from the army, the police and counter-terrorism units, but with it's main roots coming from the traditional Martial Arts. With Kapap expanding into the civilian and world-wide marketplace, the system acquired the name Face-to-Face (Krav Panim El Panim.) As an international name, it was less and less 'Israeli.' As Kapap progressed, there were more new ways to study and progress over the years to make Kapap more of a 'wide-angle system.' Now, even the world-wide system is hard to define as it's more of a concept, and once a concept becomes a system it starts to get limited and once we define Zen it stops being Zen.
Krav Maga students and or it's instructors have been quoted as saying "No groin, no Krav Maga." We've tried to take the ego out of Kapap and we say "No brain, no Kapap."
We see Kapap as a three-stage Martial Art:
1) The Combative component
2) The Sport/Recreational component
3) The Traditional Martial Arts component
We have no problem competing in Mixed Martial Arts, Boxing, Thai Boxing, Ju-jutsu, Judo, Brazilian Ju-jutsu and more. All of these systems serve as a great reference point and provide great study materials. There are those that say: "Train as you fight, fight as you train", but this quote also reveals a real misunderstanding of reality. If you were to train as you'd fight, you would be dead or badly injured, but we teach "Safety First, Safety Last."
Some say: "In the street, there is no referee." Thank God it's like that, because if you lose in the ring the fight will be stopped and you can learn a lesson from your loss. If you live by your ego alone and avoid the challenge of competing, you have already lost, as you probably fear losing and excuse it by relying on empty phrases like "in the street, there is no referee." You hide your fear, and can't face seeing yourself losing in the ring.
Always remember that if someone can knock you out in the ring he could do it in the street and that competing in the ring only gets you close to what a street fight might be like. Still, it's much closer than training and sparring only in a dojo. In the ring you will experience a more realistic fight, you will experience a certain level of fear and you will experience the effects of a real adrenalin rush, in a safe, but different way. Don't feed your ego and live in this dangerous fantasy until one day, when you get taken by surprise and by get into a real fight in the street. Remember that if someone can kick you in the head or knock you down in the ring, they can also kick you in the groin and attack your eyes in the street. Your attacker is not deluded like you are, and he will not fight and abide by your rules, he will only go with his.
Many Reality-Based systems also claim that: "In the street, the ground is the last place you want to fight." We would also add that a gun or a knife is also the last weapon that we'd want to fight. We don't even want to fight. So, by not studying ground-work, you will never understand how to get yourself up from the ground if your attacker puts you there, and with so many Mixed Martial Art
ists and ground fighters around today, you may face a guy that will take you to the ground, your first time, and you will lose. By failing to prepare, you prepare to fail.
We also see Reality-Based students dressing up with helmets, rifles, handguns and knives. We think that's funny. Who would even consider attacking someone that dresses this way? It's just not realistic. No normal person goes out into the streets like that — for example, brandishing multiple knives. The guy looks like "Bob the Builder." To go out into public that way, with ten knives on your belt, portrays you as a bully with a huge ego, and it will only result in legal issues for you. How would you explain yourself in a court of law? "Bob, why do you carry so many knives on you?" If you experience a street-fight, and use just one of those ten knives, and the attacker is injured or killed, you could be arrested for assault with a deadly weapon or murder.
We define the fight as having three distinct phases or stages:
1) Pre-Conflict:
The preparation that includes awareness, psychological preparation for an attack, hand-to-hand training for the fight, ground fighting, weapons training, and thinking about the legal aspects
2) The Conflict
What happens if you could not prevent it?
3) Post-Conflict
You will likely need to explain to a Police Officer why you are carrying ten knives for self-defense, and then do the same to a judge and a jury
You will be charged with a crime.
A crime is customarily defined as having three elements:
1) Possessing the tools to commit the crime
i.e. those ten knives you were carrying!
2) The Intention
Carrying those ten knives with you and with the intent of using them when you thought it might be appropriate to do so
3) The Opportunity
You were there when it happened
This fight with our ego and evil reminds us also that as Martial Artists we must not only demonstrate and utilize our integrity, and many morals and values but that we must also teach them. Many times we see instructors teach that knives are an evil tool and they show how you can cut and slash with a knife but they forget to teach as part of their training that we can also avoid taking life. We must try to save lives, not take lives. Just because you can does not mean that you should. The Samurai code as we interpret it is that you should use the sword to GIVE life, not to TAKE life. Traditional Martial Arts start with education and morals, and then adds skills.
This ideology reminds me of my teachers words:
On Ko Chi Shin (Study the old, understand the new)
Examine things of the past, and obtain the new knowledge and the opinion from there.
This is a proverb from Confucius that is used in Chinese, Japanese, and Korean cultures. It can be translated several ways:
Coming up with new ideas based on things learned in the past.
Examine things of the past, and obtain new knowledge.
Develop new ideas based on a study of the past.
Gain new insights through restudying old issues.
Understand the present by reviewing the past.
Learning from the past.
Review the old and know the new.
Taking a lesson from the past.
Taking a lesson from the wisdom of the ancients.
Follow the old ways.
The direct translation would be: "By asking old things, know new things." To learn new things that are outside of your experience, you can learn from old things of the past. You can find wisdom from history.
Authors:
Hanshi Patrick McCarthy www.koryu-uchinadi.com
Maj. Avi Nardia www.avinardia.com
Tim Boehlert www.defendublog.com
© Copyright, 2013 Hanshi Patrick McCarthy, Maj. Avi Nardia & Tim Boehlert