KAPAP: The Art of Giving Life, Not Taking Life
Authors:
Maj. Avi Nardia
Tim Boehlert 
© Copyright, 2013 Maj. Avi Nardia & Tim Boehlert
As a student of Japanese swordsmanship, it's clear that "To Study the Old is To Understand the New." I was an "Uchi-deshi" for almost 8 years in Japan, under sword Master Sensei Kubo Akira, and I have followed him for the last 30 years. I witnessed his skill in front of me everyday and it was inspiring. He demonstrated his mastery as my teacher with every move, every breath. As he taught, he'd often speak of Nakayama Hakudo, also known as Nakayama Hiromichi, Soke of Muso Shinden Ryu. This is why I also teach my students Arts and Crafts. You cannot teach, you can ONLY study.
When I moved to Los Angeles I searched for a teacher that could keep this spirit and inspiration, and I found Professor John Machado. Professor Machado always taught me that Brazilian Ju Jitsu needed to flow with good spirit and good attitude and that you needed to maintain your own health. BJJ is an inspiring way of life and is all about having a good quality life.
I was never a student of Carlos Gracie, Sr., but I can say that I do study a lot and am inspired by him, even though I have never met him in person. I have felt his spirit in every BJJ class with my teacher. We used to joke back then and we would call it "story time" as Professor Machado would sit and share stories, inspirations, and things from his heart. He would share with his students while some kept rolling, or some would sit nearby. I used to go home and make a list of what I needed to keep studying. Not so much the techniques, as I always had techniques in my mind, and was always getting them right and wrong! It was more about the timing and where you'd plan to use them. That's the key, because if you use great technique with the wrong timing, it would be like using the wrong tool for the wrong job. This I'd already studied with one of my most inspired and inspiring teachers, Hanshi Patrick McCarthy. Hanshi McCarthy always looked to build a bridge between the Old Days Traditional Martial Arts and the Modern Martial Arts, using flow as used in Aiki Kenpo. When I found BJJ, it was the best fit for me but it also showed the flow as in Aiki Flow – all the way from standing to ground.
Professor John Machado always spoke of "Uncle, Carlos Gracie" who was possibly the single most important figure in Brazilian Jiu Jitsu history. He was the very first Gracie to germinate the roots of BJJ, Japanese Jiu Jitsu. Carlos Gracie was known by his nickname "Pai Branco", which means "White Father" in Portuguese, by family and friends. This was the name his brothers and close family called him due to his habit of wearing white at all times and because he was considered the head of the clan, it's fatherly figure. He was the weak student his father brought to Maeda Sensei, using the stage name of Count Coma. Count Coma, Misuyio Esai Maeda, was a Jiu Jitsu/Judo representative sent to Brazil by Japan to share Jiu Jitsu with the world.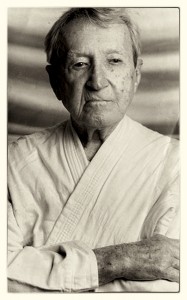 He had lots of stories, from Nutrition to Health, about how to flow, and I was inspired most about nature studies and human studies by this great teacher and his stories. He would tell stories of how he'd swim in the river with alligators, or how he developed mental training and stamina that would change him from the white chicken and train him to be the war chicken.
I am inspired by Carlos Gracie's 12 commandments, and would like to share them here:
1 To be so strong that nothing can disturb your peace of mind.
2 Speak to everyone of happiness, health and prosperity.
3 Give all of your friends the feeling that they are valuable.
4 Always look at events from a positive point of view, and turn positivity
into a reality in life.
5 Think always in the best, work solely for the best and expect always the
best.
6 Always be as enthusiastic about the success of others as you are about
your own.
7 Forget about past mistakes and concentrate your energies on the
victories ahead.
8 Always keep your fellow men joyful and have a pleasant attitude to all
that address you.
9 Spend all the time you need in perfecting yourself, but leave no time to
criticize the others.
10 Become too big to feel unrest, too noble to feel anger, too strong to
feel fear and too happy to tumble in adversity.
11 Always have a positive opinion about yourself and tell it to the world,
not through words of vanity but through benevolence.
12 Have the strong belief that the world is beside you if you keep true to
what is best within you.
This all came back to me during my last training with Hanshi McCarthy while I was looking into more study between swordsmanship, Judo, Jiu Jutsu and BJJ. In looking at today's Modern Martial Arts, we must excel at what we do and what we teach and with what 'messages' we will and must pass on to the next generations.
One of my 'messages' was to develop a new knife based on this whole study. The new knife is made by Fox knifes in Italy and it's called the "Israeli Tracker: KAPAP." This knife was developed from many ideas, beginning with my own history.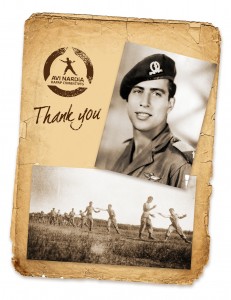 My father was a combat paratrooper. The background color of his wings was red (as opposed to blue) signifying that he actually made combat drops. This is rare, since most paratroopers train but do not actually deploy into combat in this fashion. As such, I grew up amongst the first paratroopers of the IDF, absorbing their culture, their history, their stories and pictures from the old days. One picture I have never forgotten is that of the platoon training knife-fighting in the 1950's, when KAPAP, Krav Panim El Panim/Face-to-Face combat, was the close-combat system used in the IDF. As we re-developed it and started to re-introduce it throughout the world to the civilian market, this picture kept popping up again and again in my mind as the start of KAPAP. The picture is that of my father, which I adapted into my logo. I carry my father's memory and tradition. This 'shadow' of the knife has followed me since I was a small child. I remember how my father used the knife outdoors and indoors as a heavy duty knife.
I enlisted in the army in 1980 and was challenged to go to war in 1982. I served in a war zone for two years, and my father's knife was always on my military vest. When I left the army, I gave my knife
to a Lt. Colonel friend as a present. I then traveled to Japan to study Japanese Martial Arts for almost 8 years. I became a 6th Dan in Japanese swordsmanship and a 7th Dan in Aiki Kenpo Jutsu. I have done different martial arts, but I always see myself as a Combat and swordsmanship teacher.
My school of swordsmanship is that of giving life. When I started to teach Combat, I noticed that many were teaching how to kill with a knife and explained the knife in the wrong way. You can kill with a stone… but the knife is the most important tool for humans. We use it for our survival everyday. By connecting my personal history, my way of life, and my principles, as well as a deep study of swordsmanship and knife fighting from the masters, I developed ideas as to what would constitute the ideal all around knife. Based on the origin of the knife, and with my experiences as an Olympic fencing coach and knife fighting teacher, as well as Japanese swordsmanship, I started to design this knife which would be the basis for a workshop we teach in KAPAP called "Only Knife." Students will take only a knife and go into the woods by themselves and survive. The design of the knife had to be one that was not only effective as a weapon, but it would also have to encompass other capabilities: to allow one to build their own shelter, to get their food, to get their water, to help them build a fire, and take care of all their needs to survive. The idea is that with my Fighting knife you can not only kill but also save lives and survive. This is the main idea for this knife – to give life, not to take a life.
KAPAP is not a conventional system. It is a bridge between systems: it's a philosophy and a concept. KAPAP was not designed as a belt ranking system, or to create new Masters and Grand Masters. There are more than enough systems that do this. As a bridge, KAPAP's goal is to unite Martial Artists from different disciplines so that they will be able to communicate and share knowledge as brothers-in-arms. We wish to do this without conflict, ego or politics based on common martial art principles.
Someone told me "There are no bad students, only bad teachers." I wonder what these bad teachers were before they became bad teachers? I think they may have been bad students. And today, with 'No Roots' systems, we get so many Grand Masters of Everything, and that is really Nothing.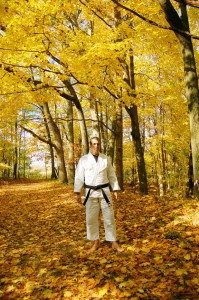 There are so many YouTube and Facebook 'internet' or 'keyboard' warriors and Grand Masters that are in Martial Arts for a only few days seemingly, and they all slander great people and teachers. These same teachers have been in the Martial arts for most of their lives! My friend Sam Markey told me a story about someone that had asked him if he could fight two or three attackers and he said "I can fight one lion, but not one-hundred Rabbits – True is On the Mat!" There are not so many teachers today as there are too many organizations, and running those organizations has become more important than teaching.
"An army of sheep led by a lion is better than an army of lions led by a sheep." Alexander the Great 
I love being a teacher and will continue to fight to remain a teacher and not a business organization. One of my main teachers is Nature. This is why we are doing lots of survival and bushcraft workshops, as no art or craft can really teach and you can only study, and your skills will be tested for real. It's the same with Martial Arts. People try to over-sell themselves in the Martial Arts like this: There was one legendary teacher and this one student had been his best student, but since the teacher is now dead, they are the new Grand Master of that teacher's life-work. But it's never like that. Most good students also had something in them to create, explore and study and this is why most of today's modern Grand Masters should remember that they are here to carry the flame, not the ash. Carry the Sprit. This is why I try teach all 3 elements: Body, Mind and Spirit. It's the same as carrying the three circles of Martial Arts: Traditional, Combative and Sport.
Always remember that techniques can work or they can fail. They are dependent on the situation, on proper timing and also what target that you choose to hit. It may be wrong, but it can also be right at the same time. Trust free-fight sparring and not theory or static practice. Truth is always discovered on the Mat by trying and mostly by studying through failing: You can hit this way and you can hit that way, with an open hand or a closed hand. The experience of free-fighting, action/reaction, standing to ground fighting, using a weapon or no weapon, strikes or no strikes, Gi or No Gi – lessons can be learned, even when you fail.
Stay away from those cowards that say things like: "We are not a sports Martial Art" or "We are not a traditional Martial Art, we are a no-nonsense Martial Art" or "No Referee, No Tap, No Rules." These slogans only show FEAR, as we all understand that we can kick someone in the groin or poke his eyes in a real fight. But, have you forgotten about the other guys skills? The advantage of a fighting sport with a referee and Tap Out rules is that it only gives you one way to challenge yourself and your fears. By hiding behind these slogans, you are not getting better prepared. By failing to prepare, you prepare to fail. Nature has no mercy at all, if it's going be snowing and you get dressed in only your underwear, it's still going to snow and you will still need to deal with it. To study nature, to love nature and to flow with nature — this is why nature can be such a great teacher. Pain is also a good teacher, but no one wants to learn this in a class!
Study yourself, improve your skills. Survival gives you so many ways to train your spirit to get stronger. To feel fear is normal and necessary, it is nature's way of giving you that extra shot of energy. Knowledge is the first step in overcoming your fear. By placing yourself in nature, you can study and learn to use your thinking in survival situations. Panic can cause humans to act without thinking.
I would like share some quotes and words of wisdom and then end this 'lesson' with "Mokuso." Each traditional class starts and ends with it.
Nature gets you to bully yourself. Challenge yourself, not others. 
"He who knows others is wise. He who knows himself is enlightened." Lao Tzu 
Great people and inspired people are said to stay away from evil. 
"I would rather be a little nobody, than to be an evil somebody." 
Abraham Lincoln 
"There are many things worth living for, a few things worth dying for, and nothing worth killing for." 
Tom Robbins, 
"When people hurt you over and over, think of them like sandpaper. They may scratch and hurt you a bit, but in the end, you end up polished and they end up useless." 
Anonymous 
"Life is a fight, but not everyone's a fighter. Otherwise, bullies would be an endangered species." 
Andrew Vachss 
"With ignorance comes fear – from fear comes bigotry. Education is the key to acceptance." Kathleen Patel
"What if the kid you bullied at school, grew up, and turned out to be the only surgeon who could save your life?" 
Lynette Mather 
"If there are no heroes to save you, then you be the hero." 
Denpa Kyoshi 
"You can have no dominion greater or less than that over yourself." 
Leonardo da Vinci 
"You have enemies? Good. That means you've stood up for something, sometime in your life." Winston Churchill 
As I have mentioned many times, the first thing to study from history is that we do not study from history! Keep away from evil and the Martial Arts that try to teach you to be a bully or evil.
"Don't carry a weapon – be a weapon." Avi Nardia
This is how we train, to be the weapon, by using our brain, and with mental training like that taught in survival studies. All Kapap training strives for the concept of not depending on any weapon other than ourselves. Like the sandpaper quote above, you become the weapon by a slow process of the body, mind and spirit all being polished.
Understand the purpose of Mokuso in the opening and closing Reshiki.
"Mokuso is the Japanese term for meditation. It is performed before beginning a training session in order to "clear one's mind" of the distractions of their everyday life, and is similar to Mushin, a Zen concept. This is more formally known to mean, "Warming up the mind for training hard." We repeat Mokuso at the end of the training session when we practice a moment of introspection.
Introspection is the self-examination of your conscious thoughts and feelings. Introspection can be referenced in a spiritual/martial context as the examination of your spirit. Introspection is related to the philosophical concept of human self-reflection, and is contrasted with external observation."
Authors:
Maj. Avi Nardia www.avinardia.com
Tim Boehlert www.defendublog.com
© Copyright, 2013 Maj. Avi Nardia & Tim Boehlert