Lee Reznik 072120
Avi Nardia, founder of the Israeli martial art KAPAP, has taught all over the world, and his students range from slum children in Kenya to business tycoons. In a special interview to Israel Hayom, Nardia discusses what makes a champion, and why he is an excellent ambassador for Israel in the world.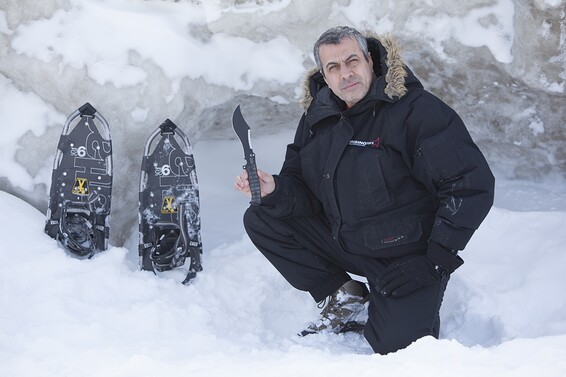 You know how you watch James Bond films and wonder why the director felt it necessary to go overboard? There's no way someone could un-cuff his hands while his feet are tied, disarm four guards, and escape through the window using a rope made of bedsheets.
But after speaking to Avi Nardia, none of that seems "overboard."
"When I make a rope out of toilet paper my students are shocked," Nardia tells Israel Hayom, speaking from his home in Belgrade.
"It's not a problem. It's like making a rope out of straw or wool. You need to roll the paper in a certain way, weave it, make all sorts of folds and then you have a really strong rope, one my students can't tear," he says.
Nardia, 58, travels the world, doing good and sometimes frightening PR work for Israel. He is a master of several different martial arts and used his cumulative knowledge to develop an Israeli martial art known as KAPAP, which is different from the Krav Maga the IDF teaches in basic training.
"Basically, there is fighting while on your feet, fighting on the ground, fighting with weapons, and by combining those I built an Israeli martial art – KAPAP. The basic Krav Maga was developed in the 1960s and is limited to the knowledge that was available back then. Today, fighting has become much more complex and demands more knowledge – falls, punches, and kicks. In addition, self-defense demands familiarity with weapons – knife-fighting, handguns, rifles, because a terrorist will usually jump you with a weapon and you have to know how to disarm him," Nardia says.
"The improvement KAPAP offers is that it includes everything. I put in wilderness survival – in ice, snow, and desert conditions. We have a seminar called 'Just a Knife,' in which a participant is given a knife and we teach him how to use it as a survival tool – how to build shelter, make a fire, and each day we teach fighting," he says.
Nardia discusses the problems with the traditional Krav Maga: "There is a Latin saying, 'Beware of the person of one book,' because a person who's read only one book in his life and bases all his knowledge and opinions on that book is dangerous. That's the limitation I see in the Krav Maga we know, which is based on one person's knowledge that in my opinion wasn't professional enough. If you want to be the best judoka in the world, you need to concentrate on judo. If you want to be the world champion in fencing, focus on fencing, but to practice self-defense, to be a warrior, you can't focus on only one thing. You need absolute knowledge. That's the difference between doing this as a sport and as self-defense."
Q: Give an example.
"When I taught kendo [traditional Japanese swordsmanship] in Israel, at one lecture some punk shouts, 'What crap! Who fights like that, with a sword? What'll you do on the street?' I brought him onstage and used my finger to do everything I'd been doing with the sword, and he was shocked. You need to know how to transform knowledge. I don't give people fish, I teach them to fish. The moment I give you a fish – technique – you'll have something to eat, but if I teach you to fish, I've taught you a concept."
"Before I train people to hit, I train them to think. I always say, 'No brain – no KAPAP.' If you want to fight me and don't use your brain, you'll fail. A person has to think, that's the most important muscle. I'm a small guy, not some giant. In the US I'd pick the biggest people [to demonstrate] at my seminars, people who weighed 150 kg. [over 300 pounds], to show how I, weighing 65 kg. [143 pounds] could win.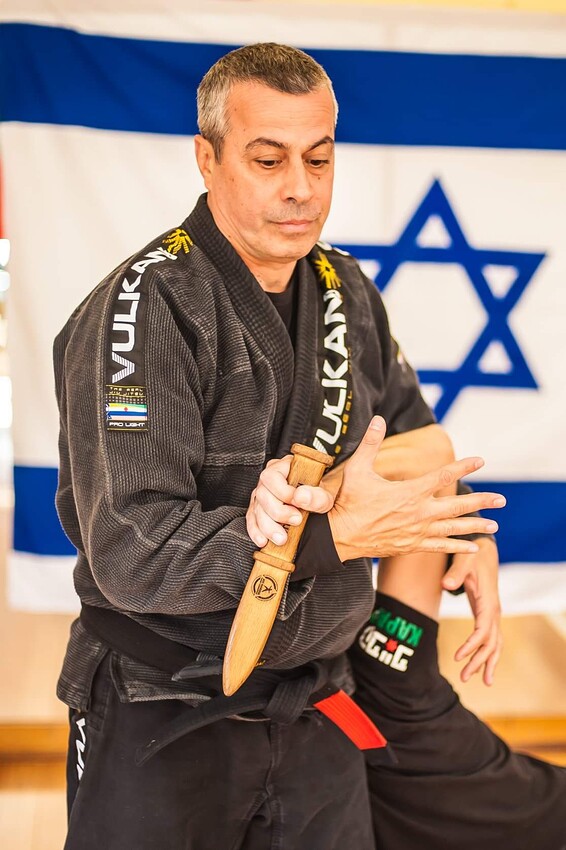 "First of all, you need to teach people to think, not panic. We have natural fears of choking, of being buried alive, so I run the escape seminar – training in which I kidnap people and teach them to free themselves from handcuffs, from zip ties, from tape that binds them – how to psychologically survive all sorts of situations, how to function under pressure. It's a whole process of building, not just 'kick and run.'
"I wasn't born a genius, but I'm a repository of experience and that is what makes me a good teacher. I'm not a master who gets attacked by 80 people from every direction and jumps in the air. That happens in people's dreams. I'm a master as a teacher who can see who I'm facing what they have and, mainly, what they lack, and I know how to fix it. I see myself as a martial artist. Why 'artist'? An artist takes a rock, gives it a few whacks with a hammer, and a sculpture appears. I take a living sculpture, a person, and create something amazing."
After being cut from the Israeli Air Force's pilots course, Nardia served as a security officer and Krav Maga instructor. There, he realized he was destined to teach and guide. In 1984, he flew to Tokyo to fulfill his dream of studying martial arts.
"At the time, there was no Google. Suddenly, I land at a Japanese airport and realize that I don't know where to go, but I landed on my feet. After seven or eight years in Japan, I came back to Israel and someone whom I served with suggested that I be a bodyguard for something that was classified at the time: Russia's education minister had a Jewish lover, they had a son together, and he would come visit them in Jerusalem. They rented a car for me and I accompanied the minister on all his visits in Israel," Nardia says.
Later, he enlisted in the Israel Police's Special Forces, taught self-defense, operational tactics, and riot dispersal tactics at the police's combat physical fitness school, and taught martial arts at Tel Aviv University and Bar-Ilan University. Since then, he has taught elite anti-terror units all over the world.
"I can't remember all the special forces [units] I've taught. Now I see pictures and suddenly remember that I taught there, too. I've trained a secret service unit here in Serbia, but my wife told me to stay away because it turned out that the unit wasn't made up of normal people – half of them were criminals," he says.
"Carlos Newton, who was MMA and UFC champion, was a student of mine from the age of 17. Joanna Jędrzejczyk [former UFC women's champion], too. In Israel the top Brazilian jiu-jitsu fighters – Ido Pariente, Eran Barak, Ora Levine – are former students of mine. I've worked with the Israeli rugby team, with the ASA Tel Aviv handball team, and with women's basketball. I dealt more with sports injuries and rehabilitation, and I saw a lot of mistakes by professional coaches who didn't know how to get the most out of their athletes."
Q: Explain.
"In terms of physicality, elite athletes get to a point where they're all the same. From there, what makes them a champion is a bit more psychology, motivation, emotional strength that will give you that little bit more. When I saw Arik Ze'evi crying at the 2012 London Olympics [Ze'evi lost to Dimitri Petrus in 43 seconds], I told him, 'I don't know who trained you, but he did bad work.' He taught him technique, not spirit. As a trainer you need to teach body, mind, and spirit. We all study the body. Mind is how you connect the exercises. Spirit is [Diego] Maradona, for example. He might be a terrible person, a drug user, I don't know what, but he has it. We all do, but with most of us it's turned off and we need someone I call a 'psychopath' to turn it that inner fire."
"There was a time in the army when I was working with youths who didn't want to serve, but after talking to me, wanted to go into elite units. You need to cause people to make a mental, psychological change. When an athlete starts looking for excuses, his fire has died out. When I worked with the handball players, when a player would catch he'd go back to defense like a peacock, but when he'd miss, all of a sudden he'd start moving his hand like he had some medical problem, and would look at me and make movements as if he had some problem with his shoulder. I'd fall over laughing. After they miss, they have the excuses ready right away.
"For example, players who aren't starting bandage themselves two hours before the game. They aren't playing because the coach didn't put them in, but they'll bandage their knee and say they don't know if they can play. They have to justify themselves to themselves, so they tell everyone they're injured.
Q: Is that especially noticeable with Israelis?
"The most. We look for excuses for everything. When I asked my father about his paratroop wings he told me, 'Forget about stories of heroism, we did what we had to, and that's all.' Today, we have excuses for everything, in every area – roads, state, sports. I let all my students know that I need results, not excuses. I see improvement in the students I bring to the edge. I saw that with Carlos Newton, who was world champion, and now he wants to make a comeback. I told him what my terms were if he wanted me to train him: that he listen to me. Not hear, listen. A lot of the time they hear you, but don't listen to what you say.
"For example, I was [Russian-Israeli tycoon] Arkady Gaydamak's personal trainer and martial arts teacher. He was my worst student. He's unbelievably clumsy, untalented, no coordination, I don't think he could pound a nail into the wall. He went a long way in martial arts. He had no physical abilities, but he wanted to learn badly. The problem was he would hear, but not listen … Eventually, he made some good progress, but if he'd listen, I could have taken him 10 times as far as he went."
Q: Is it all a question of mentality?
"Everything. It's all mental … The Japanese call it "chi." It's an internal force that you can't turn on, there's no button. If I try to attack your child, you'll see your inner mother find strength and turn into a tiger. In nature you can see a cat beat back a bear when she's defending her kittens, and she's not playing. You need to know how to turn on that trigger.
"There is the psychological matter of how a person should see themselves. The first work that should be done with soccer players or basketball players is psychological – creating commitment, identification with what they do. Then you need to work on their spirit, how to 'turn it on' when they take the field and go into battle. If the player isn't 'on' it won't work, they'll never reach their maximum. A lot of people don't know how to get the most out of themselves.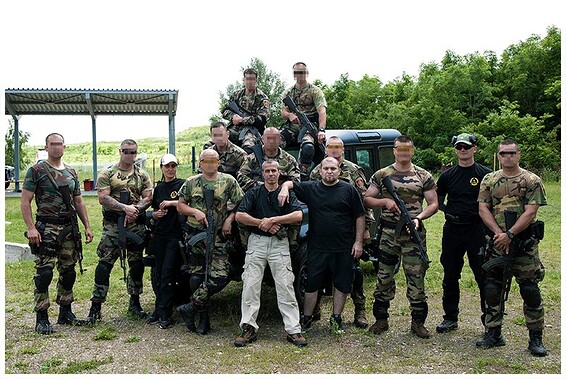 "It's a lot of psychology, a lot of tricks – how in the space of a second do you turn them from the nicest people into fighters. They can't run after the ball – they have to be given drills that will make them fight for it. So what if they took it away? Keep fighting. I've seen fights in which one fighter took the other apart and then, for his ego, started to swing his arm around for one last punch and suddenly, the opponent's head turns on and he takes down the other guy in a knockout. In battle, it's never certain who will win until the end. If I sent you to fight Arik Ze'evi and you think that he'll win because he's an Olympic medalist, you've already lost. Because of that thinking. People need to be taught to think properly. If I take on Arik Ze'evi, I'll eat him alive. That's how I think. Not out of ego, but because that's how you should go into battle.
"There's a saying I tell my students: 'You can kill me, but you can't defeat me." When Arik Ze'evi lost, the opponent 'killed' him, but the moment he dropped and started to cry, then he was defeated because he broke mentally. When a woman is raped, she is 'killed' – but she shouldn't let them win. When you can inculcate this mentality in athletes, it doesn't matter if they lose, because they won't see themselves as losers. So kids need to be taught how to lose. The other guy was better, faster? Fine, I'll come next year, next game, and I'll train harder. I have only one hand, and my opponent has two? Find, that's the situation, but it's not an excuse."
Q: How has the coronavirus pandemic affected martial arts?
"I've spoken to a few very famous teachers who shut down their schools and won't open again. Martial arts is one of the fields that has been hardest hit by corona, which I think is causing needless panic. They've made it into Ebola, but it's the flu. It's sad to me to see it wiping out our field, especially since martial arts aren't a sport and don't get government funding. Trainers don't receive salaries, and they'll go broke."
Over the years, Nardia has founded martial arts academies in Africa as part of what he calls a "social mitzvah."
"I support schools in slums in Mombasa and in Kibera, and send them money so children there will walk a good path, rather than fall into crime. In Africa there are already 10 kids named Avi Nardia. Sadly, one of them died three months ago. It's an honor that people are naming their kids after me, and it's because I also teach morals and values. I won't take on people who will go on to use what I teach them to do bad things.
"In one of the women's seminars, where I teach how to escape all sorts of situations like attempted assault or rape, there was a student who asked me, while I was working with one of the women, 'How can I grab her so she can't get away?" I picked him up and smacked him in front of everyone and told him, 'Get out, you're a rapist.' I could actually feel that he was a rapist who had come to learn what to do. I'm not ashamed to kick students out. When I see that something is wrong, I stop. When people ask me what they need to learn KAPAP I say, integrity. Do the right thing even when no one is watching, and that's something lacking in a lot of martial arts."
"I own a knife from [former Libyan dictator Muammar] Gaddafi's collection that one of my students gave me after [Gaddafi] was executed. This was a kid who was there during the revolution, who walks around Libya wearing a shirt that has KAPAP written on it. My students have been training in Indonesia and Libya wearing KAPAP shirts for close to 15 years. My biggest achievement is that I teach in the city of Dachau. I taught there at a school in the industrial zone and from the window we could see the guard towers of the concentration camp. It was surreal that I, wearing a black shirt with a huge Star of David with KAPAP written on it, and everyone knowing I'm Jewish and Israeli, was teaching an Israeli martial art there."
Q: Have you encountered anti-Semitism in your travels around the world?
"No. Maybe I wasn't looking for it, and maybe it doesn't exist in the way people talk about it. During the riots in the US, there were awful things there. Among other things, they spray-painted something about Palestine on a synagogue and immediately people rushed to say it was anti-Semitism, but when hooligans take to the streets all the hooligans show up.
"When I arrive in Israel, there's a guy from Umm al-Fahm who has shown up for four seminars already to train and learn. I think that in sports and martial arts, we connect more as human beings. Salah al-Majaj, the son of former mayor of east Jerusalem Amin al-Majaj, trained with me. There were pilots and people from the Sayeret Matkal unit studying with me who said, 'But he's an Arab,' and I told them, 'That's it. Anyone who want to leave, should leave.' Kendo is a sport and I don't mix politics and sports."
"A few years ago, I land in Australia for a course and right away see that there are a few Arabs in the group. I grab two, give them a high-five, and put them next to the Israeli flag and make everyone stand for a group picture. I see that they're going nuts but are afraid of me. Later, one of the guys took us all out for a meal and at the restaurant pulled out a roll of hundreds of dollars. I say, 'Tell me who you are' and he says, 'I'm the son of the biggest drug dealer in Lebanon. I ran away from my father. I don't want to be involved with crime and drugs, so I moved to Australia.' He fell so much in love with KAPAP that he'd go to the Lebanese neighborhood in Australia wearing our shirt, which has KAPAP written on it in Hebrew and Israeli Special Forces written on it in English."
Q: You define yourself as Israel's ambassador to the world.
"Definitely, and I'm a good ambassador. I have students who studied karate for 20 years and never hung a Japanese flag in their schools, but when they started studying with me and then began KAPAP they hung an Israeli flag. That's one of the things that makes an Israeli martial art unique – first of all, we hang the flag. Israel teaches purity of arms, morality, values, and a moral army. That's what I try to teach people, not because I'm a hero or anything, but because it's something my father taught me – morals, values, and love for Israel."
Published:
https://www.israelhayom.com/2020/07/21/before-i-teach-people-to-hit-i-teach-them-to-think/